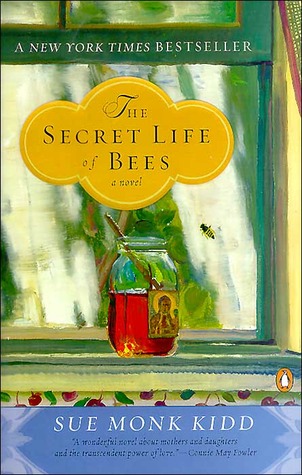 Goodreads: Set in South Carolina in 1964, The Secret Life of Bees tells the story of Lily Owens, whose life has been shaped around the blurred memory of the afternoon her mother was killed. When Lily's fierce-hearted black "stand-in mother," Rosaleen, insults three of the deepest racists in town, Lily decides to spring them both free. They escape to Tiburon, South Carolina–a town that holds the secret to her mother's past. Taken in by an eccentric trio of black beekeeping sisters, Lily is introduced to their mesmerizing world of bees and honey, and the Black Madonna. This is a remarkable novel about divine female power, a story women will share and pass on to their daughters for years to come.  
I guess I forgot to include this as one of the books I purchased recently.  I was reading via the library but it came due so I decided to buy it.
The book draws a person in as Lily struggles to find her way in the world.  She has issues with her father which somehow have to do with the mother she barely remembers.  Longing for a mother's love, Lily finds the sisters endearing and feels as if they share a thread in the fabric of life.
I thoroughly enjoyed the book.  The characters were vividly portrayed.  Set midst the Civil Rights movement, Kidd weaved a story full of history with just a touch of mysticism. The bees added to the core of the story – who knew there was so much involved in keeping bees?
I easily give the book an A and will recommend it to everyone who hasn't already read it.  Quite a good read.