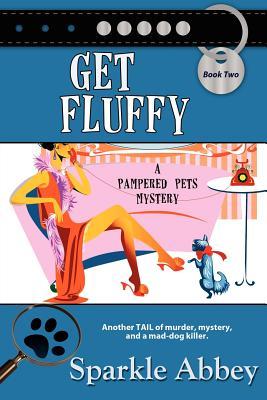 Goodreads: Disgraced Texas beauty queen, Melinda (Mel) Langston, owns Laguna Beach's Bow Wow Boutique. Mona Michaels, Mel's most despised client, owns a star dog, Fluffy, who's worth millions. When Mona is found whacked in the head with Fluffy's Daytime Emmy, everyone wants Fluffy, but someone won't stop at murder to get the pooch.
Secrets. Blackmail. Mel tackles the case like a dog with a bone. But can she dig up the truth before the killer buries her?
Another fun read from Sparkle Abbey.  I have to say, when I started it I was skeptical because the main character was different but it turned out alright after I got used to that.
Have to say, the pooch, Fluffy, was a riot – you could feel the high-fluten society attitude oozing from the canine.  Worth millions and knows it.
Maybe it is because this is a second book so not as much of a novelty or because I read the Desperate Housedogs first that makes me like it better.  However, this one moves at a good clip making it easy to get through.  The mystery wasn't too hard to figure out but it didn't really matter in the end because the joy, for me, was the interactions with the pets.  What fun!
I give the book an A and recommend it if you'd like a light summer read while sitting on a nice sandy beach listening to the waves roll in.  If you don't have a beach & waves, guess you'll have to read it poolside or – in the worst case scenario, on the side of your bathtub.  🙂