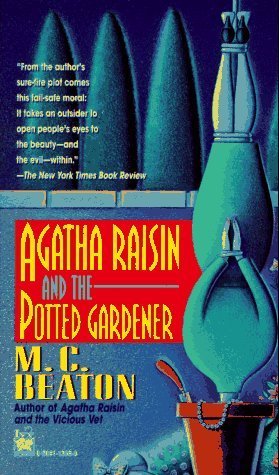 Goodreads: Agatha Raisin 50s returns from a lonely holiday to find James Lacey having an affair with newcomer Mary Fortune. She sees green – jealous, Mary's favorite color, and the Garden Open Day competition. A body planted head first brings Mary's estranged daughter Beth and her violent boyfriend. Agatha investigates with Roy, Bill, and other pals.
I have to say, I find that Beaton's characters are starting to run together.  It is a bit like reading a soap opera.  LOL
So here we are on the next book ~ they read so quickly and easily! This one was better than the last by far but I had the murder picked out before there even was a murder so guess it wasn't that suspenseful. Still, it was fun and poor Agatha reminds me so much of myself that I have to shake my head sometimes in wonder.
Agatha is funny, blunt and overwrought all at the same time.  Poor James, the confirmed bachelor, seems totally inept when it comes to women.  He regrets getting himself on the "outs" with Agatha and then regrets getting himself on the "ins" with her too.  I'm afraid I would find such a man rather droll but Agatha seems to think otherwise.
Agatha, herself, can be wishy washy in that first she hates village life, then she loves it, and then she hates it again.  It gets a bit repetitive – I hope it doesn't continue throughout the entire series.  She seems so sure of herself and strong-willed at times and then a weak, silly old woman at others.
When Mary sets her eyes on James, she has no idea what she is going to encounter with the jealous Agatha who will fight for him out of pure competitiveness.  Poor James wants neither woman but he brings it all on himself.  Then poor Mary gets "potted" and all the sordid details of her affairs comes to light with James getting caught in the crosshairs.
Well, on to the next one.  I don't have as much time to read now as I did but I will squeeze in one now and then.  These are quick, light reads that give one a sense of accomplishment when they turn the last page.  I give it an A.