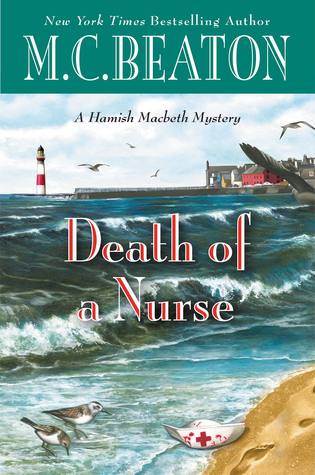 Goodreads: James Harrison has recently moved to a restored hunting lodge in Sutherland with his gorgeous private nurse Gloria Dainty. When Hamish visits Mr. Harrison to welcome him to the neighborhood, the old man treats him very rudely. Gloria apologizes for her employer's behavior, and Hamish takes the plunge and invites her out for dinner. On the appointed evening, Hamish waits for Gloria at the restaurant. And waits. Gloria never shows up. Four days later, Gloria's body washes up on the beach near Braikie. Now without a date and without his former policeman Dick Fraser (who left the force to buy a bakery), Hamish must find out who killed the beautiful new resident of Sutherland, and why, before the murderer strikes again….
Well, I had to wait months for this book but it was worth it in the end.  I enjoyed reconnecting with Hamish and the Highlands.  Does anything new happen? Does Hamish finally get the girl?
The story moves along quickly – I read it in five hours.  Of course, now I will have months before the next one comes out – maybe a year.  That is a rather irritating thought.
Priscilla does make an appearance in the book more as a side story.  There is more hints about her past and why she has become such a frigid woman but nothing was all that revealing.
Hamish makes mistakes along the way but comes to the correct collusion eventually.  I thought it was rather easy to solve but most of them are.  It really doesn't matter – the author successfully transported me back to the Highlands and made Hamish real again, even if for only five hours.  I give it an A.