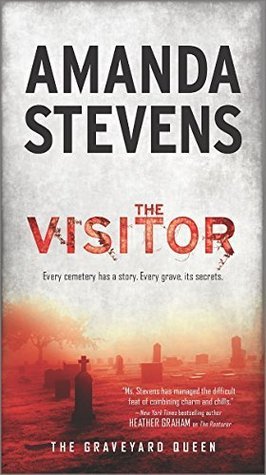 My name is Amelia Gray. I'm the Graveyard Queen.
Restoring lost and abandoned cemeteries is my profession, but I'm starting to believe that my true calling is deciphering the riddles of the dead. Legend has it that Kroll Cemetery is a puzzle no one has ever been able to solve. For over half a century, the answer has remained hidden within the strange headstone inscriptions and intricate engravings. Because uncovering the mystery of that tiny, remote graveyard may come at a terrible price.
Years after their mass death, Ezra Kroll's disciples lie unquiet, their tormented souls trapped within the walls of Kroll Cemetery, waiting to be released by someone strong and clever enough to solve the puzzle. For whatever reason, I'm being summoned to that graveyard by both the living and the dead. Every lead I follow, every clue I unravel brings me closer to an unlikely killer and to a destiny that will threaten my sanity and a future with my love, John Devlin.
Well, at last the long awaited book arrived.  Completely devoured it today and immediately felt the impatience for the next installment in the series.  Will Devlin and Amelia survive the turmoil?
The book is well written and true to the Graveyard Queen series.  I will say that I kind of wish each book was its own mystery so one felt a sense of closure at the end instead of this having to wait for the next book – and then the next one.  I suppose this is how authors keep readers but I find I lose my enthusiasm towards a series the longer I have to wait for it.  Then I find I'm too many books behind to even bother catching up – this is what happened to the Lucas Davenport series, just got tired of waiting so checked out for several years.  Now who wants to go back to start again where I left off? Not me.
But this series is intriguing enough at the moment to be willing to wait for the next book as long as I don't have to wait years again.
This is one series I can read that is written in the first person but I also have a feeling she is going off in a direction I probably won't be open to in the next few books.  I don't care for demons and devils and all that stuff.  Keep it simple.
Great story, great friction and lovely descriptions of the area.  I recommend the series – it is quite good.  I give it an A.