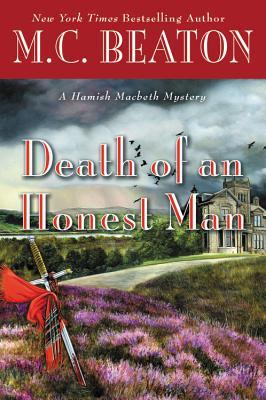 Goodreads: 
Sergeant Hamish Macbeth–Scotland's most quick-witted but unambitious policeman–returns in M.C. Beaton's new mystery in her New York Times bestselling series.
Nobody loves an honest man, or that was what police sergeant Hamish Macbeth tried to tell newcomer Paul English. Paul had moved to a house in Cnothan, a sour village on Hamish's beat.
He attended church in Lochdubh. He told the minister, Mr. Wellington, that his sermons were boring. He told tweedy Mrs. Wellington that she was too fat and in these days of increasing obesity it was her duty to show a good example. Angela Brody was told her detective stories were pap for the masses and it was time she wrote literature instead. He accused Hamish of having dyed his fiery red hair. He told Jessie Currie–who repeated all the last words of her twin sister–that she needed psychiatric help.
"I speak as I find," he bragged. Voices saying, "I could kill that man," could be heard from Lochdubh to Cnothan.
Started this book a little after midnight and had it done at 7:30 a.m.  It was true to the other Hamish books and it was good to read one for it seems like it took forever to become available.  I kid you not, I was 148th on a list for this book at the library.  I went ahead and bought it rather than wait.
Some would think that, this being the 33rd book, the series would be getting old but, alas, it does not.  I enjoyed this book as much as the first one I read.  Hamish is such a character that it is hard not to love him.
The story line keeps a person interested and while we really don't get much of a chance to get to know the self-declared "honest" man (who isn't very honest) before he is done off, I still didn't like him.  With Blair up to his usual tricks, Hamish has to stay on his toes.
The book does do one thing I found a bit anti-climatic and that was its constant referral to something evil coming but failed, I think, to deliver on it but it is a small thing.
The hardest thing about reading this book is that I will have to wait another year or longer before the next one comes out.  I give it an A.